Behavior-Based Ergonomics Therapies (BBET) Breakthrough Alzheimer's & Dementia Therapy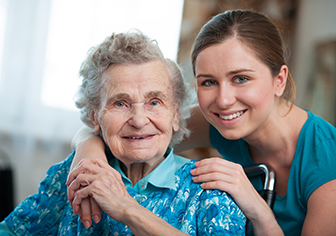 With all the tools right at our finger tips Shawnee Manor can make the best of the time you spend with us. One of these tools is our Behavior-Based Ergonomics Therapies (BBET) program. BBET is truly a Person Centered Care program designed to enhance dignity and the quality of life for those suffering from alzheimer's and dementia
What is BBET?
BBET is a non-medication based program designed to reduce and even prevent behaviors associated with alzheimer's and dementia. It provides residents with access to personalized activities in order to manage resident behaviors.
How does BBET work?
The BBET Program identifies clinical vs. non-clinical causes for behaviors, provides specialized caregiver training, and offers customized plans.
Customized plans are used as a complement to group activities and consist of four therapies based on interest and capability:
Music Therapy
Video Therapy
Stimulating Therapy
Memory Prop Therapy
What are the benefits of BBET?
Therapies are individualized, providing both comfort and appropriate cognitive exercise
Variety of non-pharmacological options for managing behaviors and engaging residents
Enhances family visits & interactions
Resident program reports are available to families at care conferences
Improves each resident's quality of life
Signs of stress are identified by trained staff before behaviors escalate
Residents are calm for hours after the therapy and often sleep better
The BBET Program has received six national awards:
2011 Dorland Health Silver Crown Award for Alzheimer's Care
2011 AMDA Foundation Quality Improvement Award (jointly sponsored by Pfizer)
2012 Long-Term Living Leaders of Tomorrow Award
2012 LTC LINK Spirit of Innovation Award
2012 OPTIMA Award by Long-Term Living
2014 ACHCA Public Service Award